Public Service is my Motto.
Joined

Nov 2, 2017
Messages

2,561
Reaction score

4,098
Points

154
If something is totally FUBAR in the USA, it is almost always in West Virginia. The place is cursed. It doesn't matter if it is being a coal state during global warming, or the old news oxycontin epidemic, the moth man or Indrid Cold, or the sheepsquatch, or the countless cult compounds and unincorporated towns nestled in the beautiful hollows of this stunningly pretty state, West Virginia is the USA's own third world.
Enter the abbagoochie
Allegedly abbagoochies are from Costa Rica and were allegedly introduced into WV by the WVDNR to keep down the incidence of predators such as coyotes and pumas and such. They are described as "dryland piranhas" and look like this: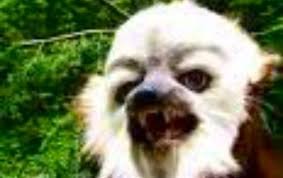 Does it exist? Well, either WV is the most cryptid intensive place on the planet, or probably not. In all likelihood, after sheepsquatch failed to gain enough traction with the monster hunting fraternity, the WV Chamber of Commerce decided it needed a new cryptid to market. The irony is, that being said, it is remotely possible, "ya never know" (but you probably do).
Here is a site where you can read all about the abbagoochie:
http://westvirginiaurbanlegends.com/what-is-a-abbagoochie/