Gone But Not Forgotten
(ACCOUNT RETIRED)
Joined

Jan 17, 2002
Messages

1,371
Reaction score

39
Points

69
(Copied / transplanted from the Weird Weather thread)
Here's some nice
piccies
of some of these phenonoma.
Jane.
Here's the relevant text and a photo from the cited webpage ...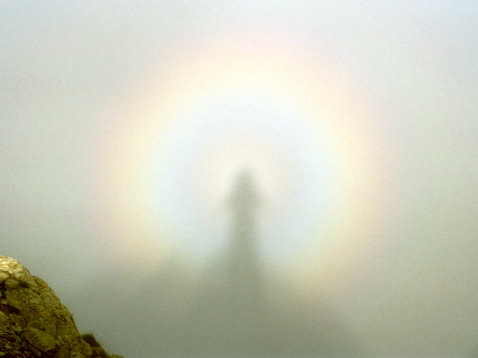 ​
Yet another colorful and rare phenomenon, the Brocken spectrum (also know as a glory), here a picture taken in central Italy. It is sometimes visible from mountaintops and looks like a circle of rainbow colors around one's shadow projected on the haze below. The sky above needs to be clear and usually some wind is needed to form the haze just on the downwind side of the mountain. Up until 2003 no really clear explanation had yet been given, but a deeper mathematical analysis revealed that the main cause is a tunneling effect of incoming light on the surface of the water droplets, an effect which is not necessary in order to explain rainbows for instance. In other words, a part of the light from the sun which passes very close to a droplet actually goes in the droplet thanks to a tunnelling effect, and is sent back in the direction it came from via usual optical phenomena, including wavelength separation of colors, hence the aspect of multiple concentric rainbows. Or in yet other words, it is a direct and beautiful macroscopic view of a microscopic quantum effect.
SOURCE: https://www.gdargaud.net/Antarctica/AntarSky.html
Last edited by a moderator: