Gone But Not Forgotten
(ACCOUNT RETIRED)
Joined

Jul 12, 2012
Messages

23
Reaction score

1
Points

7
I came across this photo a few days ago and I've been thinking about it a lot, so felt inspired to share it with you. Apologies if it's already been mentioned (or explained), I did a search but found nothing. Having said that, it's rather hard to classify! I've googled it, hoping to find an explanation and put an end to my nightmares, but could only find the message board where it seems to have originated. So with that in mind, I'm hoping it hasn't already done the rounds. I've seen people refer to it as the "ejdallim witches", ejdallim being the photobucket account from which it was posted.
So, the story goes that this photo was taken by a wedding photographer, attempting to capture an aerial shot of the entire congregation.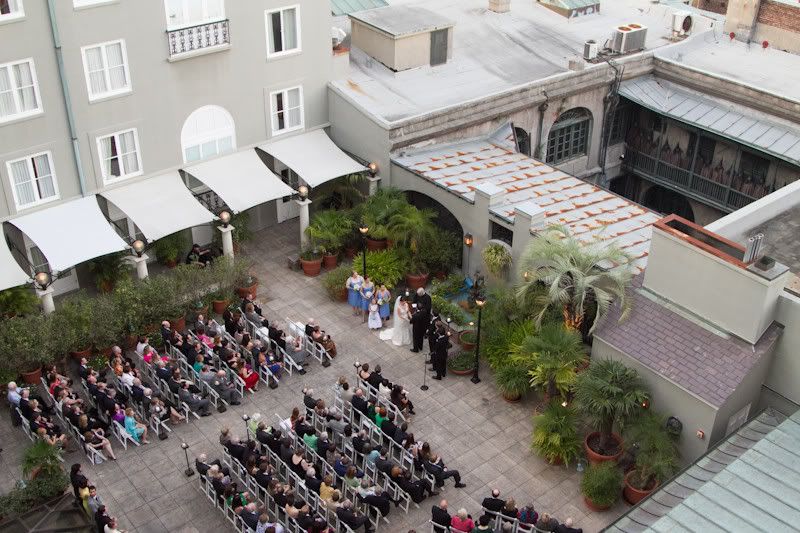 A photographer friend apparently noticed something unusual on the balcony to the far right and enlarged that portion of the picture. This is what they found: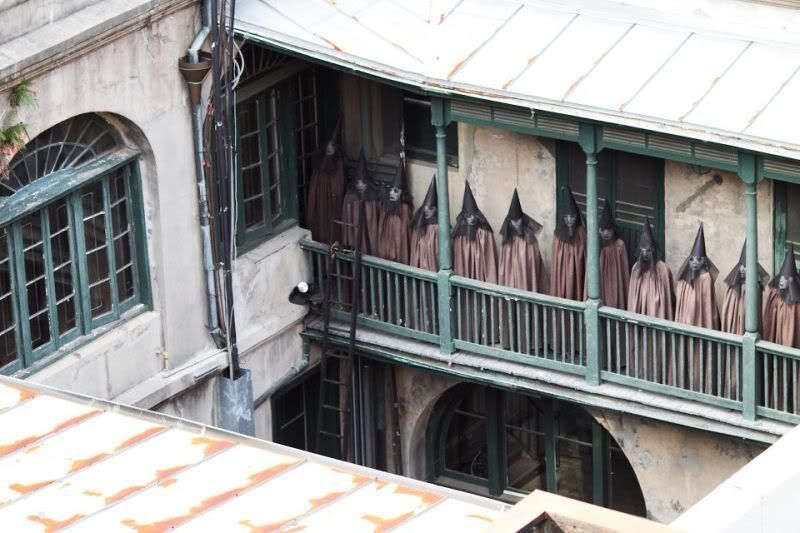 Ahhhhh! I'm not sure what I find the most terrifying, their masks and veils, the KKK influence or the fact that their cloaks look so faded and ancient! There is also something horrible about the fact that they're so close to, and yet separate from the wedding.
Now, I'm dubious about the story attached to the photo, it seems to me that the second image may well be a completely different shot, looking at the angle of the roof. I imagine the photographer noticed the oddness and zoomed in to take a photo, but who knows? I've seen speculation that the balcony may belong to some kind of art gallery and that the figures may be explained away as mannequins (and the three figures on the right certainly look stiff), but a few minor things make me wonder, the positioning of the bodies, the difference in face shape and height (unless they're dummies collected from different sources) and most tellingly, the fact that the robes are all the perfect length for each figure, something that really wouldn't matter if they were only to be worn by stationary dummies - no fear of tripping! If they were made from a uniform pattern you'd think some would be trailing on the floor. Having said that, it's odd that we can see no hands or feet, no human movement at all. Mind you, it looks like quite a solemn occasion, perhaps they were standing to attention?
They do seem quite lifeless and my gut feeling is that they're dummies, but whatever the heck they are, art installation, b-movie extras, members of a cult, I find them utterly terrifying! Really hope someone finds this as interesting as me, it inspired me to make my first new topic on here.
Sources:
Here's a link to the post that I saw linked to on twitter:
http://imgur.com/a/E1nxY
After some digging I found what appears to be the original source of the photo (scroll down):
http://www.ar15.com/mobile/topic.html?b=1&f=5&t=1227431&page=46