The reasons why I think the avalanche escape exercise is another dead end.
First:
The group was tired.
Excerpt from the Dyatlov group diary entry penned down on January 31st:
I can't even start thinking of setting up a storage. It's close to 4. We have to start looking for a place to pitch the tent. We are going south in Auspiya river valley. This apparently is the place covered with the deepest snow. Wind is not strong, snow cover is 1,22 m. Tired and exhausted we started the preparations for the night. Not enough firewood. Frail damp firs. We started fire with logs, too tired to dig a fire pit.
This sounds absolutely nothing like a guy who has an ice cave surprise for the very following day. This sounds like a guy struggling to make ends meet and running out of steam.
On the last day, they only traveled 2.5 miles -- during a heavy snowfall which probably made the ascent very tiring and challenging. From the last pictures taken, the weather bordered on a snowstorm. I believe the last thing in their mind was preventing a good sleep with a pointless exercise -- only to stymie their progress even further.
Second:
They hated sewing up the tent! Hated it. They fought over who's gonna do it. It was already pretty shoddy and the worst possible thing they could have done would be deliberately cutting it ever worse not even halfway through the trip. If they even planned something as outrageously unintelligent (hiya!) as the above-outlined exercise, it made much more sense to do it on their way back. And especially, only conduct it if they're ahead of their schedule and feeling well.
Third:
While being ready in any case and having a couple of scenarios automated is probably a good idea, the way of achieving it is likely not a random tent-cutting, down-the-slope scurrying one-time festival. To my mind, if you wanna be prepared for an avalanche, you prepare yourself for an avalanche by setting up the tent so you don't have to cut it and having at least the basic accessory ready to go at all times. You practice by keeping everything as to minimize the potential damage; not by inflicting the maximum damage on yourself by pretending you have been hit by an avalanche unprepared. Such an exercise just makes no sense whatsoever. As a matter of fact, it's suicide, and they were well beyond smart enough to realize this.
Fourth:
I doubt anyone was in a state, physical or mental, to even come across such an idea. But even if any of them were such a sadist/masochist, I can't see the rest of them going with it. Not all. Not at all. And don't give me the 'it was the Soviet Union, so who knows' mantra.
Dissent was as strong part of the Soviet Union as was obedience. Don't forget that the Soviet Union was a result of revolution.
Fifth:
If anything like that was planned/normally conducted, both authorities and Yudin would have raised this question a long time ago.
Sixth:
It was cold. There are temperature maps dating back to 1959 covering the area which were already posted here:
Click to enlarge: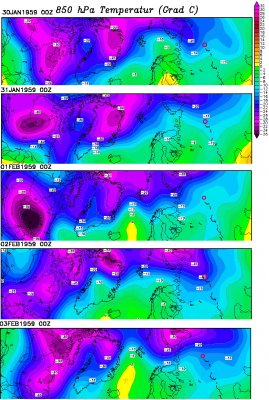 Seventh:
My gut goes hee hee ha ha.
Last edited: