I knew the job was dangerous when I took it ...
Staff member
Joined

Jul 19, 2004
Messages

12,007
Likes

13,256
Points

309
Location
I can't locate any substantive posts - much less a thread - on this practice, so I'm starting a dedicated thread.
Foot binding
was the custom of applying tight binding to the feet of young girls to modify the shape and size of their feet. It was practiced in China from the
Tang dynasty
until the early 20th century, and bound feet were considered a status symbol as well as a mark of beauty. Foot binding was a painful practice and significantly limited the mobility of women, resulting in lifelong disabilities for most of its subjects. Feet altered by binding were called
lotus feet
.
https://en.wikipedia.org/wiki/Foot_binding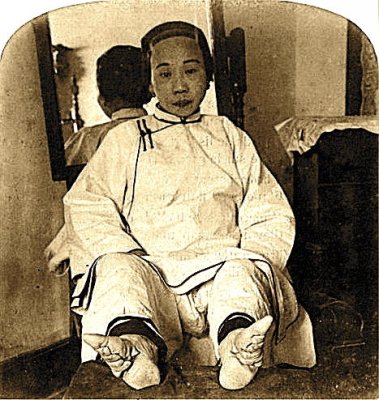 ​
See Also:
Why Footbinding Persisted in China for a Millennium
Despite the pain, millions of Chinese women stood firm in their devotion to the tradition
https://www.smithsonianmag.com/history/why-footbinding-persisted-china-millennium-180953971/
Last edited: