Parish Watch
Staff member
Joined

Oct 29, 2002
Messages

34,723
Location

East of Suez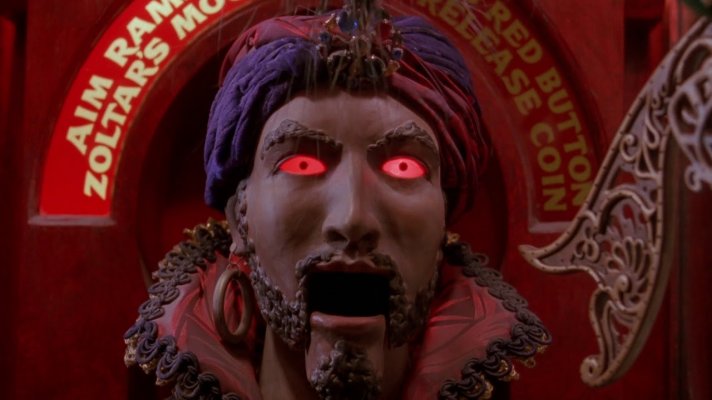 This can serve as the inaugural post on a thread that I was surprised to find did not already exist.
I've been too busy to post this for a couple of weeks, but I recently visited Sokcho on the west coast of Korea for the second time and found something novel:
갯배 명당 / "(The) Cable Ferry Famous Place"
This miniature passenger ferry covers a span of probably less that fifty metres for the princely sum of ₩500 (~31p / 35¢)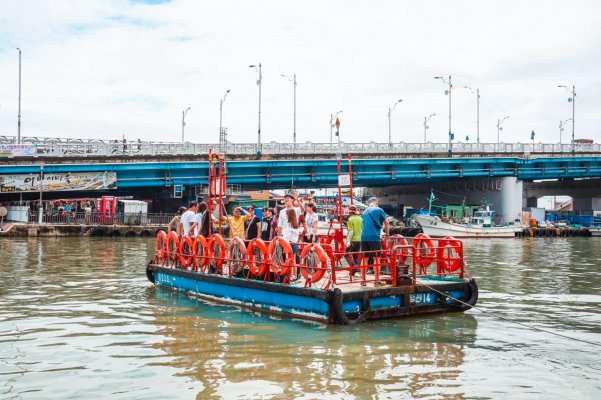 Photo Source
:
https://www.creatrip.com/en/spot/5684
For our Fortean purposes, the dock is also home to a very modern and somewhat interesting fortune telling machine: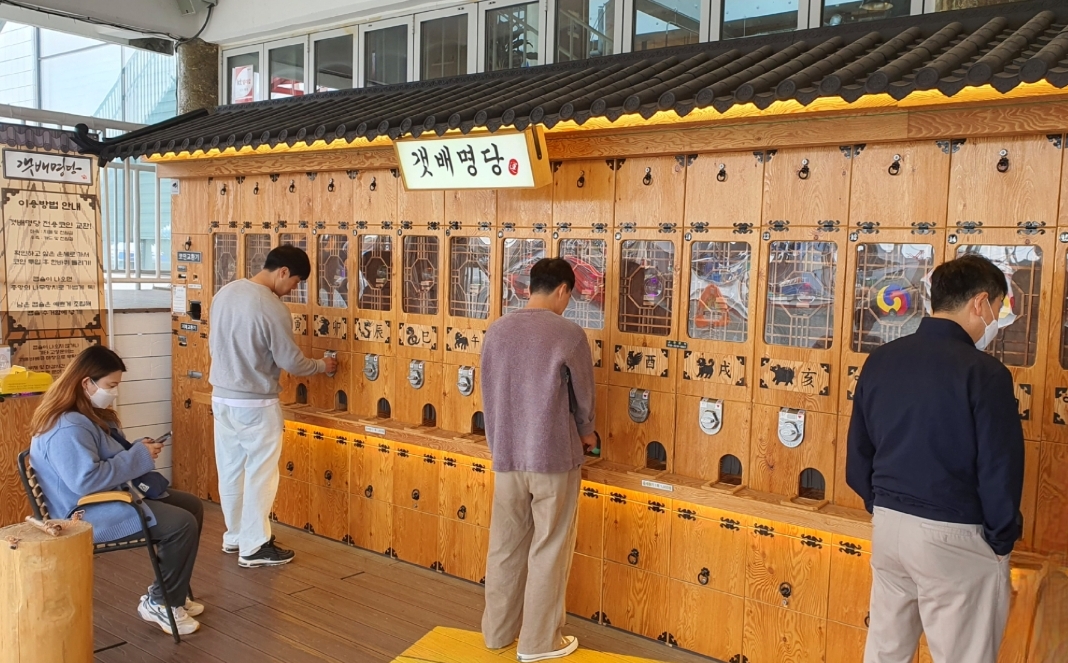 The long wooden cabinet houses:
An identical change machine at either end (₩1,000 notes can be exchanged for two ₩500 coins).
Fifteen separate fortune dispensers, the first twelve from the left being labelled with a Chinese character and an illustration of its corresponding zodiac sign.
Three additional (and identical) dispensers labelled 'Love & Wealth'.
(To jog your memory)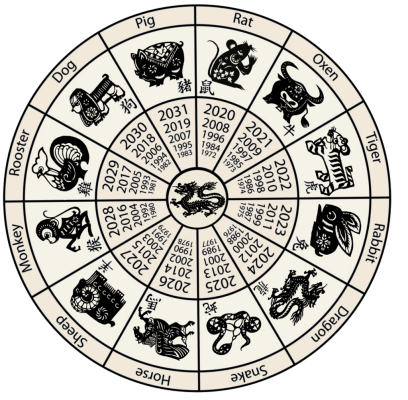 Source
:
https://www.zodiacsigns101.com/chinesezodiaccompatibility/
Once you have chosen either the machine that matches your zodiacal sign or 'love & wealth' and have inserted one coin and turned the handle, a plastic ball is dispensed that contains your fortune. I went for my sign. These plastic 'eggs' are easily opened--just as one opens a Kinder egg--but for ritual's sake you can take it to the 'stump and mallet' provided and attempt to 'break it open' with a blow. This, more often or not, sends your fortune flying, but some fellow tourists were having fun goofing around for the camera with theatrical poses. Presumably linked thematically to this mallet stage, there is a 'whack-a-mole' style game a few metres away, but it doesn't form part of the fortune telling process, alas. There is also a 'lucky throw' receptacle to dispose of the empty eggs (see video below).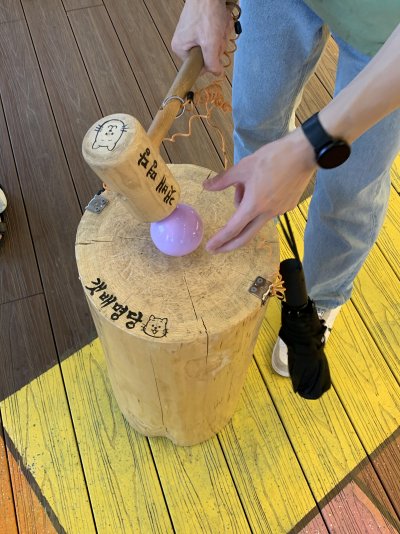 This is what the egg contains: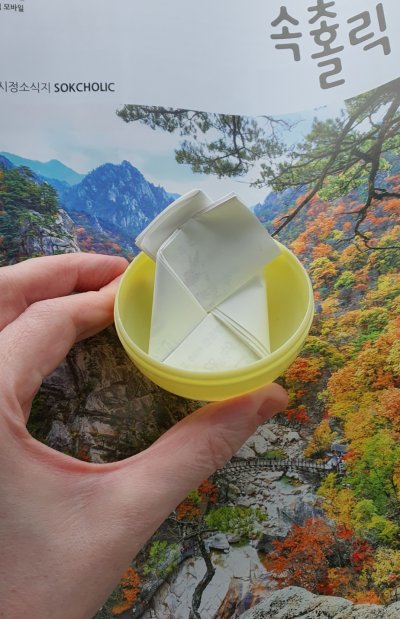 My wife and I are the same 'sign' but received very different fortunes (lest the suspicious among you think they're all identical).
Mine looks like this once untied: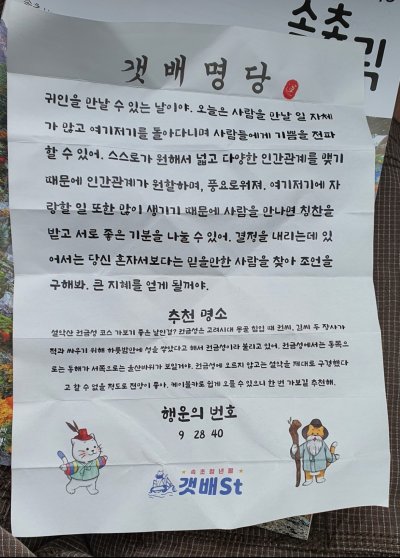 Here's a very rough translation:
Getbal Famous Place
Today is the day you have a chance to see a nobleman. Today you will be able to meet people and spread pleasure among them while you wander here and there.
You will have good relationships and productive interactions with people because you like to form bonds widely and pursue varied relationships. When you see these people, you will receive praise and share your good mood with them, and for that you will get good news and also encounter sources of pride. When you come to make an important decision, you should seek advice from a reliable person rather than decide on your own. Through doing so, you will gain great wisdom.
The second section gives a very specific 'lucky place' somewhere on Seoraksan (the tallest mountain on the South Korean mainland) that I may wish to visit; it also adds, in an oddly practical tone, that it might be better to take the cable car. I asked my wife whether this was a metaphor (surely?), but she said that it was literal, which seems incongruous in the context.
Being away from the big city and the job it contains, I can report only that while I did not knowingly meet a nobleman, I was on rather good form and managed to elicit a few smiles from the locals.
Finally, I was given three lucky numbers to use in any or all situations where numerical choice is required:
9 / 28 / 40

A Korean couple have posted a video of their visit to this site--it's a kind of 'dating spot':