Joined

Aug 9, 2001
Messages

5,222
Likes

9,743
Points

309
Glacier National Park Quietly Removes Its "Gone By 2020" Signs
May 30, 2019. St. Mary, Montana
Officials at Glacier National Park (GNP) have begun quietly removing and altering signs and government literature which told visitors that the Park's glaciers were all expected to disappear by...2020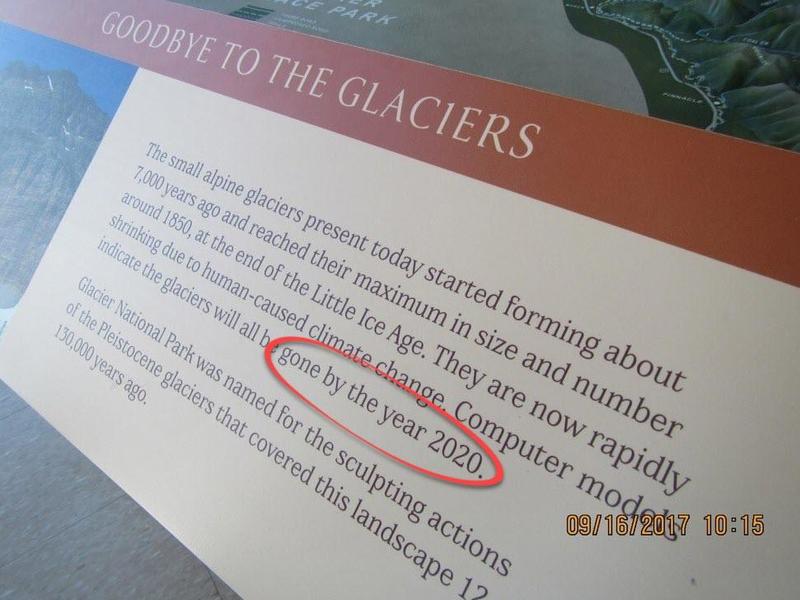 The centerpiece of the visitor center at St. Mary near the east boundary is a large three-dimensional diorama showing lights going out as the glaciers disappear. Visitors press a button to see the diorama lit up like a Christmas tree in 1850, then showing fewer and fewer lights until the diorama goes completely dark. As recently as September 2018 the diorama displayed a sign saying GNP's glaciers were expected to disappear completely by 2020.
But at some point during this past winter (as the visitor center was closed to the public), workers replaced the diorama's 'gone by 2020' engraving with a new sign indicating the glaciers will disappear in "future generations."
The 'gone by 2020' claims were repeated in the New York Times, National Geographic, and other international news sources. But no mainstream news outlet has done any meaningful reporting regarding the apparent stabilization and recovery of the glaciers in GNP over the past decade. Even local Montana news sources such as The Missoulian, Billings Gazette and Bozeman Daily Chronicle have remained utterly silent regarding this story.
https://www.zerohedge.com/news/2019-06-10/glacier-national-park-quietly-removes-its-gone-2020-signs
maximus otter