Parish Watch
Staff member
Joined

Oct 29, 2002
Messages

29,426
Reaction score

34,678
Points

309
Location
I may well be over-inflating a chat topic, but I recently got stuck beneath an absurdly hot sun and in need of water and was forced to buy the most expensive bottled water I've ever paid for outsider a bar: Kona Deep. As I drank the stuff, I read the virtual essay printed around the edge that sought to justify the price tag:
What is deep sea drinking water?

The term deep sea drinking water refers to water that is extracted from the ocean, usually at depths of 1000 feet or more and then processed to make it palatable and healthful.

Isn't sea water too salty to drink?

Kona Deep® 100% Hawaii deep sea drinking water has most of the salt removed through a process of reverse osmosis. Remaining salt (sodium) is just the right amount to keep the water tasty and healthy.

What makes Kona Deep® so special?

Kona Deep® is extracted from a depth of 3000' off the coast of Kona, Hawaii. The depth plus Kona's unique location at the end of the Global Conveyor Belt means the water for Kona Deep is naturally free of pathogens, chemicals and pollutants and rich in nutrients and minerals.


What is the Global Conveyor Belt?

The Global Conveyor Belt is a deep undersea current that travels continually around the globe. Moving very slowly (a complete circumvention can take thousands of years) water in it rarely nears the surface. On its journey the water comes in contact with many undersea conditions and volcanic events and as a result picks up significant levels of nutrients and minerals.

Why is Kona Deep® good for me?

We all need water (a couple of quarts or liters a day for most people) to survive and thrive, and bottled water is the best way to guarantee that the water we drink is clean and safe. Kona Deep® is premium bottled water. It is processed from water that is naturally free of pathogens and chemicals, and rich in nutrients and minerals that are readily absorbed by the body. While being both refreshing and delicious, the nutrient makeup of Kona Deep® makes it beneficial to the human body.

http://www.gotdeep.com/faqs.htm
And, like a shampoo advert:
Drinking Water Inverse Pyramid:

Deep Sea Drinking Water

is at the pinnacle of the

"Drinking Water Reverse Pyramid"

where deeper is most

definitely better.

http://www.gotdeep.com/pyramid.htm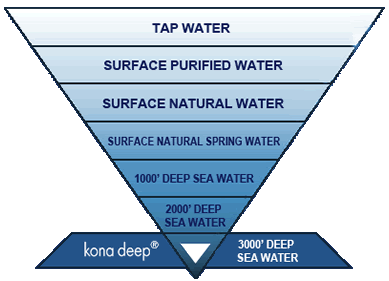 Is there any discernible reason why drinking water from the deep ocean is good for me? I like the
idea
, but it instinctively sounds like pseudo-scientific rot!
For the record, it tasted nice. That said, I would have settled for iced pond-water at that point... Mad dogs & Englishmen...
edit 'healthful'? Is that considerate literate in the US?
Last edited: