Hi, I've signed up to this forum as a result of something strange that happened to me last night. I'm brand new to all of this and pretty freaked out.
My boyfriend and I came home from work and there was a puddle on our coffee table in the living room. Looked up to check for a leak as there has been heavy rain here in the UK the past few days (thanks, Storm Gareth!). There was no water on the ceiling AT ALL and we checked in the loft and there's no pipes/leaks/water at all! We reported it to our Letting Agent and someone has checked the roof today; no leaks. (See photo 1, water in the centre of the table, no run off!)
Cleaned it up and watched TV for a bit before bed. A few hours later I suggested clearing the table before bed (our laptops etc. are stored there) in case the water came through the ceiling again over night.
Boyfriend lifted his laptop and there was a perfect rectangle (see photos) under the laptop. The lid and screen were bone dry, no spillages, nothing, no splatter, no bottles/glasses, he hadn't had it out with him and spilled in bags etc.
I can't seem to find any reasonable explanation for this but I am very freaked out. It doesn't help that my boyfriend doesn't believe in the spirit world!
Also, and I think this really is my mind overacting, but it looks like there's a child's face in the reflection of the water!!!
Can anyone shed some light/give me some tips?
Thank you all in advance!
Nervous newbie.
Dani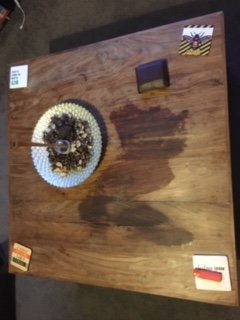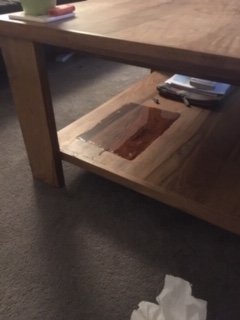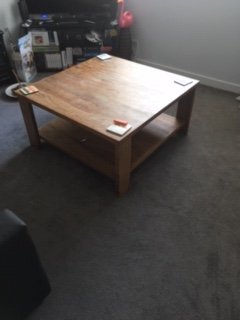 Last edited by a moderator: