Parish Watch
Staff member
Joined

Oct 29, 2002
Messages

26,883
Likes

27,915
Points

309
Location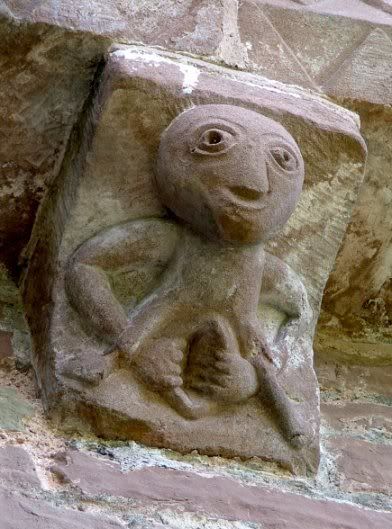 Sheela na Gigs (or Sheela-na-Gigs) are figurative carvings of naked women displaying an exaggerated vulva. They are found on churches, castles and other buildings in Ireland and Britain, sometimes together with male figures. A well-known example can be seen at Kilpeck in Herefordshire, England. In The Sheela-na-Gigs of Ireland and Britain: The Divine Hag of the Christian Celts – An Illustrated Guide Joanne McMahon and Jack Roberts cite 101 examples in Ireland against 45 in Britain...
http://en.wikipedia.org/wiki/Sheela_Na_Gig
Sheela Na Gigs are quasi-erotic stone carvings of a female figure usually found on Norman churches. They consist of an old woman squatting and pulling apart her vulva, a fairly strange thing to find on a church. The
carvings are very old and often do not seem to be part of the church but have been taken from a previous older building.
* Even though the image is overtly sexual the representation is always grotesque, sometimes even comical. They are usually associated with "hags" or "old women". The carvings often incorporate ribs showing on the torso and sometimes facial scaring as well, although this feature seems to be more common in Ireland than in mainland Britain.
* The carvings are normally found on Churches usually of Norman origin and of Romanesque design, but they can also be found on Secular buildings (e.g. above a stable door in Haddon Hall Derbyshire, they can also be found on many castles in Ireland )
* Sheela na gigs can be found all over Britain, Ireland and even France and Spain.
* While the most common interpretation of a sheela na gig is "a pagan idol" there is little evidence for a pagan connection. The prevalence of sheelas in Ireland (far more so than anywhere else) suggests that even if the image originates on the continent the image has meaning for the Irish. However the pagan interpretation of sheelas is by far the most popular and generates most of the debate on the figures.
http://www.sheelanagig.org/
New information to me, and i found nothing on the board... Some local examples/photos may be nice if anyone's near a Sheela...
:idea: