Parish Watch
Staff member
Joined

Oct 29, 2002
Messages

33,890
Reaction score

45,301
Points

314
Location

East of Suez
Via the venerable Coast To Coast A.M. site:
Video: Eerie Entity Photographed Watching Over Campsite in England?​
November 09, 2021
By
Tim Binnall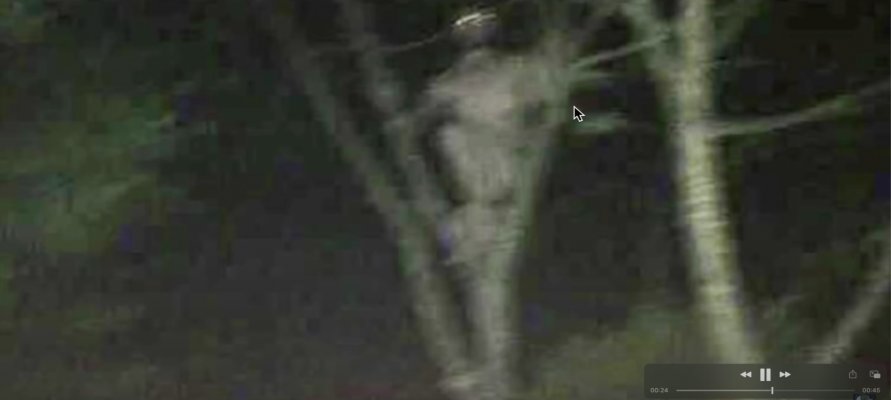 A nightmarish photo purportedly taken by a camper in England shows what appears to be some kind of eerie entity that is perched in a tree and seemingly watching over her. The very weird image was sent to YouTube user 'MrMBB333' from a man named Mike, who claimed to have received the picture from a friend who had gone camping over the summer at a site in the town of Edenbridge. He went on to explain that the camping trip took a chilling turn "when she was awoken by some strange loud noises."

Since their fire had largely burned itself out, the area around the campsite was pitch back and so the woman used her cell phone to take pictures in the hopes that the flash might illuminate whatever had caused the late-night ruckus. In the process of that impromptu investigation, the woman snapped the puzzling photo wherein a strange figure appears to be sitting precariously in the branches of a tree. The oddity looks to possess crouched legs, arms holding some branches, and a head sporting glowing eyes. Alas, the camper apparently did not notice the unnerving interloper in the tree until she later looked at the images.

As for what the 'being,' for lack of a better term, might have been, some have suggested that it may have been a cryptid like Bigfoot, a supernatural humanoid entity, or perhaps even a ghost. More skeptical observers have argued that the 'creature' is merely a product of pareidolia brought about by the limited light and shadow at the campsite. Perhaps the most unsettling suggestion put forward online is not paranormal at all as some have posited that the woman actually photographed a person who was stealthily watching the site while the campers were sleeping.
Source
:
https://www.coasttocoastam.com/arti...otographed-watching-over-campsite-in-england/
[Video begins at case in question--not the beginning]
: