Parish Watch
Staff member
Joined

Oct 29, 2002
Messages

29,380
Reaction score

34,592
Points

309
Location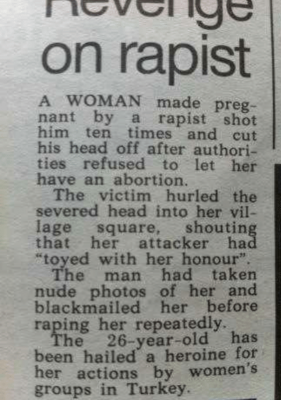 Details:

Yalvac (Turkey):
A woman heavily pregnant with the child of her rapist, killed the perpetrator and left his severed head in the local village square, Sun reported.

The woman five-months pregnant with the rapist's child has been pleading with authorities to let her have an abortion—although the law prohibits any woman beyond ten-weeks pregnant from taking such an action.

Sun reported that when police arrested her in the south-western village of Yalvac she told them that the head was of the one who 'toyed with her honour.'

Womens' groups in Turkey have praised the mother of two as a heroine after it emerged she was being blackmailed by her attacker.

The rapist had taken nude photos of her and threatened to send them to her parents unless she continued sleeping with him.

It also turned out that the woman—aged 26—had been abused by her attacker for months before she took her revenge.

She took a gun and shot him ten times in the chest and the groin before cutting off his head and hurling it into the village square.

During her testimony she reportedly said: "He kept saying that he would tell everyone about the rape."

"My daughter will start school this year. Everyone would have insulted my children. She added: "Now no one can. I saved my honour."

"They will now call my children the kids of the women who saved her honour."

The report said that in parts of Turkey there have been cases of rape victims being murdered for 'shaming their family honour'.
https://daily.bhaskar.com/news/BZR-...ad-hanging-in-village-square-3735569-NOR.html
​
Last edited: