Joined

Aug 2, 2001
Messages

11,846
Likes

8,316
Points

309
It reminded me of Victorian artist and poet Dante Gabriel Rossetti,
portrayed here, in 1871, with his beloved pet wombat, Top!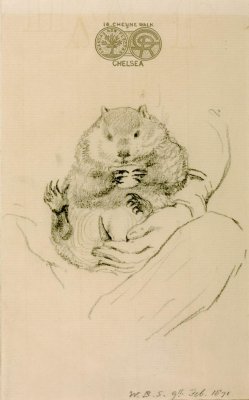 From that page on the Tate site:
" . . . after the death of his wife, Elizabeth Siddal, Rossetti had moved to 16 Cheyne Walk in Chelsea. The house had a large garden that soon became a miniature zoo. Rossetti, fond of visiting the wombats at London Zoo, had two 'pet' wombats, buying one in 1869 . . . he wrote to his brother describing it as 'a Joy, a Triumph, a Delight, a Madness'. This celebrated wombat he named Top.
However, Top was not long for this world, lasting only a couple of months, and dying despite a vet's visit in November of 1869. When Top passed on, Rossetti drew a self portrait mourning the loss. He had Top stuffed and displayed him in the entrance to 16 Cheyne Walk."
Since Top died in 1869, it has been suggested that this 1871 drawing by William Bell Scott depicts Rossetti with a Canadian Woodchuck. The site appeals for "
anyone who has more knowledge on either wombats or woodchucks to shed some more light on this charming beast."
Comparing it with the above photo. I am tending towards the woodchuck hypothesis . . .
Either way, did no one ever dare to say to the esteemed artist, "I say, Dante, your fingers stink like a wombat's bum!"
"I think you'll find it's woodchuck, old chap!"
Keeping wombats as pets is not recommended!
Last edited: