doesn't negotiate with terriers
Joined

Sep 15, 2013
Messages

33,120
Oh, I fully understand where you're coming from. I have a pretty low tolerance for violence, but love a good scary film, so lean towards the original Halloween, The Omen and The Haunting rather than modern gorefests. However, if it's comical, like Evil Dead 2, a film so wildly OTT it had Ash fighting his own severed, demonically possessed hand, or stylised/impressionistic like Candyman, I can handle more. See also: half the filmography of Tim Burton.

Been debating checking out the House films, actually. They seem agreeably broad and knowing.
I only ever watched the first one (and had the zombie hand ringing the doorbell poster on my bedroom wall as a teenager) .. it was good fun.
I stole the design of the 'Ben' Vietnam era zombie from HOUSE, sketched it and re sculpted it for a U.S. fan Evil Dead fan horror film.
Because it was zero budget, I asked the director to send me measurements of his actors face, selected a friend here in England, took a cast of his face, bought a shitty camera tripod from a car boot sale for £2, poured plaster of paris into the negative cast of my friend's face and before that set I pushed the mounting part at the top of the tripod into the still setting plaster.
I did that just for personal convenience, I wanted to be able to sit on a chair and sculpt the make up in comfort.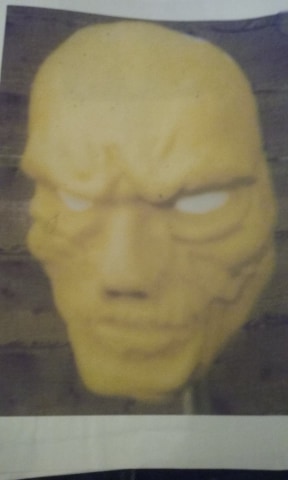 The negative cast of this sculpt ..
Strengthening the bastard because I couldn't afford plaster hardener on a zero budget ..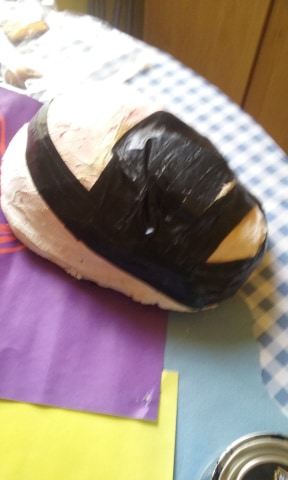 Carla Phillips starting to get one of my forehead appliance glued on .. except the director ignored my 'water based' part of water based spirit gum advice and instead bought regular spirit gum instead that morticians use to glue back together the faces of people who've died in car wrecks etc .. this burned her skin. I did warn him.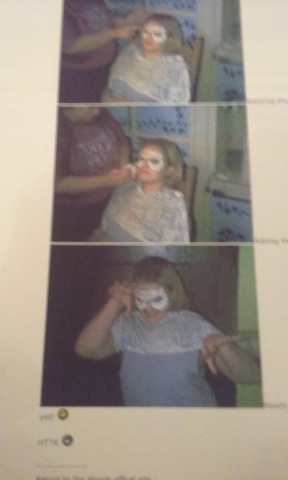 I removed the negative once the plaster had set which left me with a solid face to sculp onto, the part of the process I'd pushed the tripod mount into. I used plasticine/oil based clay to sculpt with. When I was happy, I made a negative of the sculpt so I could use it as a slush mould to create appliances that could be glued onto the actor with water based spirit gum. I used acrylic paint to pre colour the liquid latex so the on set make up artist in the U.S. had a base green colour to start with so he could add low light and high light shading on set) .. after creating the prosthetics so they could be assembled like jigsaw pieces on the actors face, I made a few full one piece masks to send to the crew for fun and in case they wanted to shoot it in the face, attack it with an axe or something on camera because it would match the actor's face perfectly for any quick edit shots.) .. The red cup holding a glass bulb on the far left of this strip of pics from 'Return To The Woods' was built for us by Tom Sullivan who created all the make up and prop F/X for the original 'The Evil Dead' film .. he agreed to do it for free and for fun (he built two of them so he could keep one) .. he called it 'the chalice of the dead' and it was part of our storyline .. beautiful work.
Last edited: