Joined

Nov 1, 2015
Messages

618
Likes

1,592
Points

134
I was drawn to this interesting subject after reading a news item about such a rare occurrence. It's a very small club to be a part of!
It seems the law around what nationality any baby born whilst aloft at how-ever-many-thousand feet can be quite complex, varying from taking the mother's nationality, to the nationality of the country that the aircraft is registered to, to becoming a citizen of the country that was being flown over when born. The issue is broadly split between two principles -
jus sanguinis
and
jus soli
, right of blood and right of soil, respectively. The former means citizenship is determined not by place of birth but by the nationality of the parents, while the latter is the reverse
The 1961 UN Convention on the Reduction of Statelessness can apply if the infant would otherwise be stateless but only 73 of the world's nations have ratified it.
The 1948 British Nationality Act can confer nationality if the baby qualifies as British through parentage even if not born on British soil.
As it currently stands, children born in Canadian airspace are automatically extended Canadian citizenship, as are babies born in US airspace. This also includes over territorial waters.
Shona Owen, born in 1991 on a flight from Ghana to London has under 'place of birth' in her UK passport "on an aeroplane 10 miles south of Mayfield, Sussex"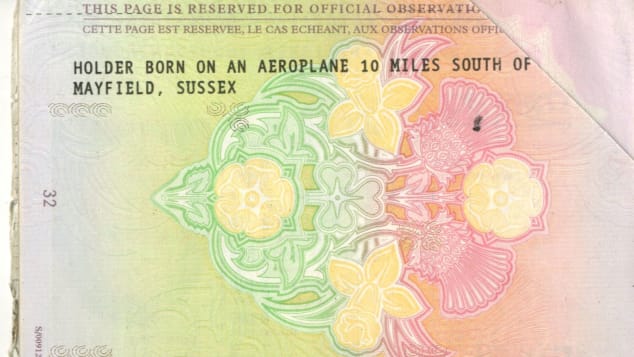 [image: Shona Owen]
There's some interesting articles online :
https://edition.cnn.com/travel/article/people-born-on-airplanes/index.html
https://www.npr.org/sections/krulwi...tionality-an-airplane-puzzler?t=1550689861981