Joined

Nov 1, 2015
Messages

1,145
Reaction score

3,456
Points

154
From a Snopes news story
https://www.snopes.com/ap/2019/11/07/orangutan-granted-human-status-settles-into-new-florida-home/
[although the link misdescribes Sandra as having been given 'human' status, rather than non-human person status]
Sandra was born in Germany, spent her adult life in Argentina's Buenos Aires Zoo and has now retired to Florida, USA at the Center for Great Apes .
From the article:
"Judge Elena Liberatori's landmark ruling in 2015 declared that Sandra is legally not an animal, but a non-human person, thus entitled to some legal rights enjoyed by people, and better living conditions. "
Giving you the benefit of my own humble opinions I've often thought, and remarked, that the great apes should be thought of as 'people' or 'another kind of human'. It is pleasing and hopeful indeed to find out I'm not alone in this
Local newspaper The Miami Herald also has this article from yesterday:
https://www.miamiherald.com/news/state/florida/article237126129.html
"This is the story of Sandra, a 33-year-old orangutan "non-human person" that was granted that status by an Argentine judge who determined that she had some of the same rights us "legal personhood" folks have.

And, apparently, that's the right to live in Florida.

According to Fox 35, Sandra is settling into her new home at the Center for Great Apes in central Florida.

Patti Ragan, director of the center in Wauchula, Florida, told the Associated Press that Sandra is "very sweet and inquisitive" and adjusting well.

Sandy — she didn't say whether she minded the nickname, but if it was good enough for Olivia Newton-John's character in "Grease" we think she won't mind —was born in Germany. She spent 25 years at the former Buenos Aires Zoo...."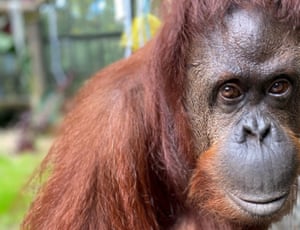 Photo credit from the article cited above : Sandra the orangutan at her new home in Wauchula, Florida. Keith Stein/Center for Great Apes/AP
Last edited: