Joined

Feb 4, 2021
Messages

133
Reaction score

872
Points

98
Location

Back of beyond
Bit of a long shot, admittedly, but many many years ago a community history group in Belfast put out a series of 60-page pamphlets on local ghost stories.
Some of them I bought up at the time, others I've acquired since through online auctions and the occasional lucky find at second-hand markets.
The one I'm still missing is
'Ulster Ghost Stories Part Two',
and it was published by the Glenravel Local History Project c.1992/93.
I've never seen a copy, or found any trace of one for sale online, but it was listed in their available back issues for a few years so I'm reasonably confident it exists.
It looks to be the same format as Part 1 (which I have) - A4 sized, monochrome throughout with a mildly coloured paper cover, and 60 pages with two staples holding it together: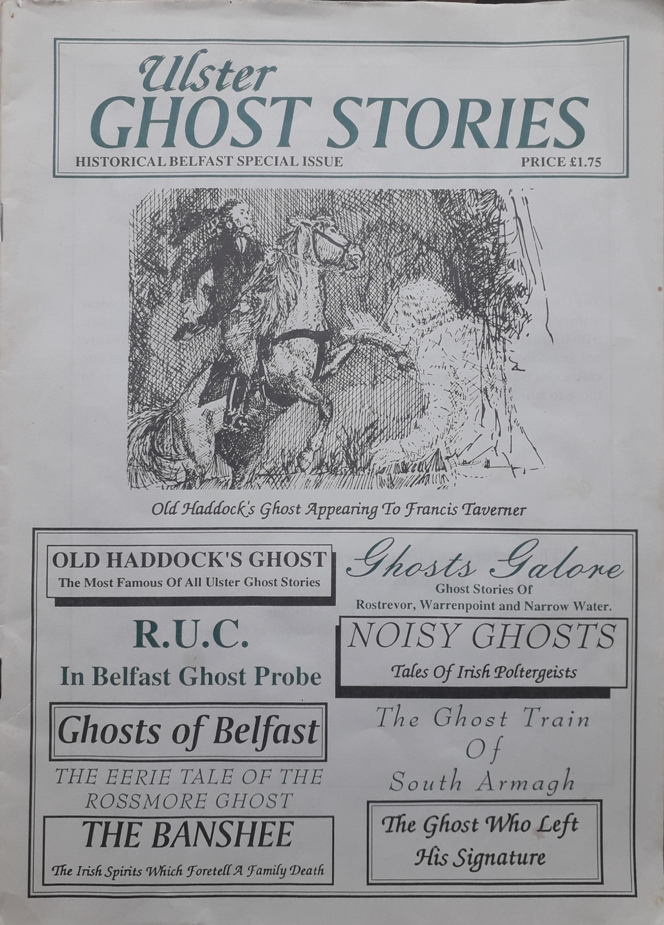 I believe I have read
most
of the stories within
UGS Pt2
, since the series author (Joe Baker) put together a 'Haunted Belfast' book a few years ago, and seems to have reused pretty much all the stories he previously published under the Glenravel imprint.
But there's a few which I can tantalisingly make out on the
UGS Pt2
front cover ('Old Emma', 'The Grip Of A Ghost') that aren't in the collected edition and, as a completionist, I'd be interested in tracking down a copy of this one.
So, just wondering if anyone happens to have a copy kicking around that they no longer require - or if you do but don't wish to sell, could even provide a precis of the stories in that edition?
Hey, if it's not here, it's maybe not anywhere...
Many thanks!