Joined

Aug 19, 2003
Messages

50,941
Reaction score

25,060
Points

284
Location

Eblana
We now nose it's not extinct.
Nearly 130 years ago, Italian explorer Elio Modigliani arrived at a natural history museum in Genoa with a lizard he'd reportedly collected from the forests of Indonesia.
Based on Modigliani's specimen, the striking lizard — notable for a horn that protrudes from its nose — got its official taxonomic description and name,
Harpesaurus modiglianii
, in 1933. But no accounts of anyone finding another such lizard were ever recorded, until now.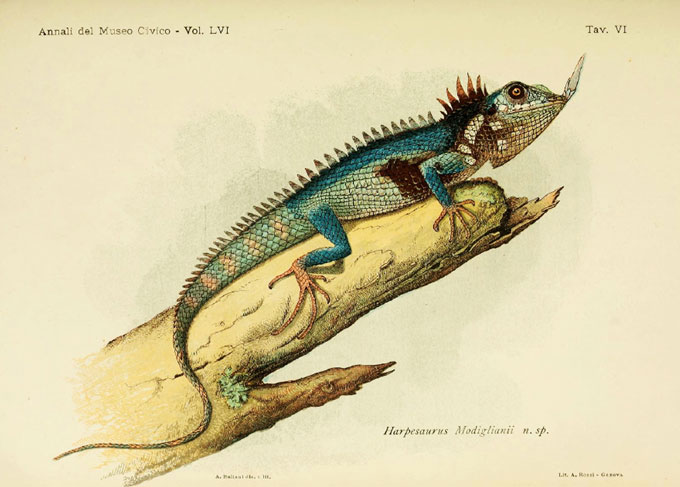 This illustration of Modigliani's nose-horned lizard was made in 1933 based on the original lizard first found in 1891. That specimen turned pale blue due to how it was preserved.C.A. PUTRA
ET AL
/
TAPROBANICA: THE JOURNAL OF ASIAN BIODIVERSITY,
2020,
ANNALI DEL MUSEO CIVICO DI STORIA NATURALE DI GENOVA
56, PL. VI
In June 2018, Chairunas Adha Putra, an independent wildlife biologist conducting a bird survey in a mountainous region surrounding Lake Toba in Indonesia's North Sumatra, called herpetologist Thasun Amarasinghe. Near the lake, which fills the caldera of a supervolcano, Putra had found "a dead lizard with interesting morphological features, but he wasn't sure what it was," says Amarasinghe, who later asked the biologist to send the specimen to Jakarta.
It took only a look at the lizard's nose-horn for Amarasinghe to suspect that he was holding Modigliani's lizard. "It is the only nose-horned lizard species found in North Sumatra," he says.
https://www.sciencenews.org/article/nose-horned-dragon-lizard-lost-science-found
Last edited by a moderator: