Joined

Jul 13, 2013
Messages

5,190
Likes

6,745
Points

284
http://ghostclub.org.uk
Excerpt of original article by Kathy Gearing which appeared in the Spring 2006 Newsletter. Photograph: provided by Lee Moynes and taken by his friend Joan.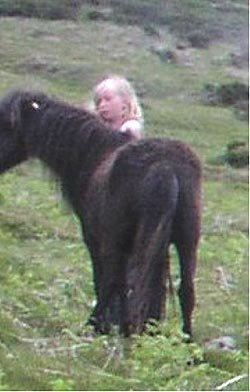 This photograph was taken on a wet, drizzly day on Dartmoor on the 14th June 2002. The photographer had been sitting in the car watching the ponies with her partner and decided to take a picture of them before they went home. They were totally baffled when they saw the little girl who appears to be petting the pony, as they are absolutely sure there was nobody else around at the time. Joan says, "the little girl was not wearing appropriate clothing for that cold, wet day and she was "brighter" than she would have been in the flesh - so to speak". It does seem very unlikely that a young girl would be out on Dartmoor, miles from anywhere on her own. Joan adds, "also those ponies do not stand still to let anyone touch them. The only person we saw, apart from the cars which drove by, was a man driving a tractor coming off the moor to get on to the road".
Having seen how skittish Dartmoor ponies can be, the provenance of this picture intrigues me.
However, if we accept it at face-value as having been an unseen apparition in the classic style, there are a few odd factors.
The dark disks below her ear might be large round hoops, but these would of course normally be opened-through, not closed. I'm almost reminded of hair-bangs, coils.
A hand may be perspective-distorted, upon the pony's back. But it looks oddly....big. The absence of any legs/body could simply be due to placement and screening.
Therefore: is this what it claims to be? Or a standard picture of a skilled country girl that's being purposefully or accidentally misrepresented.
(I tried to get a higher-resolution picture, without success)