Gone But Not Forgotten
(ACCOUNT RETIRED)
Joined

Aug 10, 2005
Messages

12,006
Reaction score

197
Points

114
mindalai said:

Coincidentally I'd just re-read Dracula a few days before this was on TV so it was all quite fresh in my mind. It was AWFUL. It was nothing like the book, which I could forgive if they'd come up with some intelligent new interpretation of the legend but they didn't. They just seemed to want to shoehorn as many new stories into the film as possible. ...
My theory? The BBC put out a really decent adaptation of the Victorian 'penny dreadful,' serial,
Sweeney Todd: Or, A string of Pearls
, last year, starring Ray Winstone. Perhaps someone came up with the idea of doing a version of another penny dreadful,
Varney the Vampire: Or, The Feast of Blood
, for this year.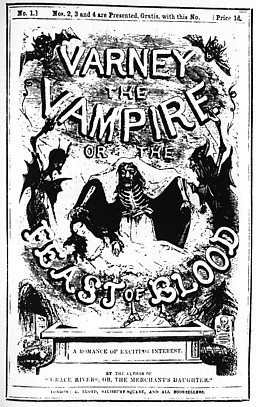 http://www.unicorngarden.com/varney.htm
Marc Warren really would have been ideal for Varney. Maybe they got the stars and funding, then some executive berk said,
"What's all this 'Varney the Vampire' rubbish on BBC1? Far too abstruse! The Great Unwashed won't go for that. Give them Dracula. That's the only Victorian vampire they know, or want. Best not to take too many risks with the Christmas schedule, what?"
Great missed opportunities N° 1224.