Joined

Aug 9, 2001
Messages

11,920
Incidentally I did try and see if there were any gibbetings recorded in Buckinghamshire - we have:

Thomas Marsh and Richard Marshall, Rye Common, Chepping Wycombe, 1736
Benjamin Randall, Loudwater, 1740
George Davis, Holtspur Heath, 1755

All these are in the right sort of area to maybe locate 'Gyb Farm', if it ever really existed.
Chepping Wycombe has been subsumed by modern High Wycombe; a Victorian OS map shows it as ~1,000 yards ESE of Desborough Castle, so in the rough area of the leftmost orange ellipse: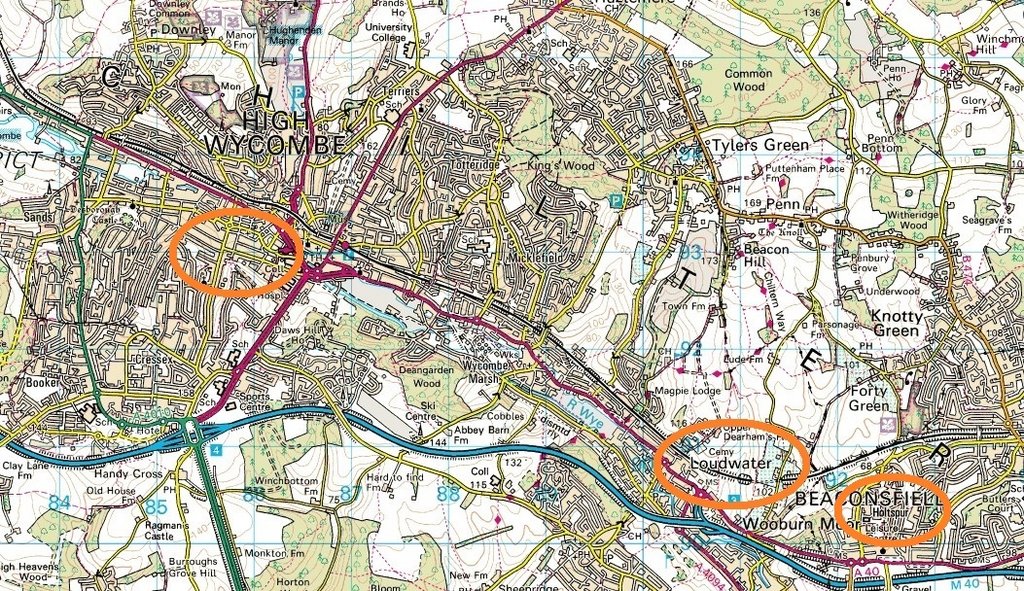 Loudwater is the central ellipse.
The Holtspur area is the rightmost orange ellipse
"
The town of Beaconsfield expanded greatly aft
er the Second World War, and, to the west, swallowed up the hamlet of Holtspur."
Interestingly,
the Victorian 6" OS map
shows in the Holtspur area a "Cut-throat Wood" and one or two place names featuring the word "Glory", e.g. Gloryhill Farm and Glory Mill: "Glory" as in "
Hand of Glory
", I wonder?
From a brief look at the modern OS map, it seems that the three gibbetings you list took place near the modern A40; perhaps on high ground, readily visible from what was a main road even in the Eighteenth Century?
maximus otter