Joined

Aug 19, 2003
Messages

56,122
Location

Eblana
114 and he's thinking of giving up smoking!
South African 'world's oldest man' wants to stop smoking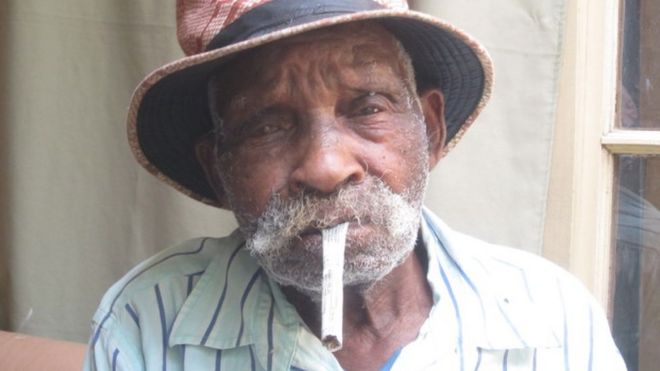 Image captionFredie Blom says there is no special secret to his longevity
Fredie Blom spent most of his life as a labourer - on a farm and in the construction industry - in apartheid South Africa but he might soon be recognised as the world's oldest man, as the BBC's Mohammed Allie reports from Cape Town.
Although he gave up drinking many years ago, Fredie Blom is still a regular smoker.
"Every day I still smoke two to three 'pills'," - local slang for tobacco tightly rolled into a cigarette-length piece of newspaper. "I use my own tobacco because I don't smoke cigarettes.
"The urge to smoke is so strong. Sometimes I tell myself I'm going to stop but it's just me lying to myself. My chest chases me to have a puff and I'm then forced to make a 'pill'.
"I blame the devil for that because he's so strong," he says with mischievous grin.
Celebrity status
The first thing that strikes one when meeting the centenarian is how remarkably healthy and solid he still looks.
A tall, well-built man, he walks unaided, if understandably slowly, and besides being a touch hard of hearing, he has absolutely no ailments.
The former farm worker, who turned 114 on 8 May, is said to be the oldest person still alive although this is yet to be verified by the Guinness World of Records.
The title was last held by a Jamaican woman, Violet Moss-Brown, until 15 September 2017 when she died at the age of 117.
Guinness World of Records says it is still consulting genealogists to confirm the next holders of the "world's oldest man and woman" titles. ...
http://www.bbc.co.uk/news/world-africa-44224484